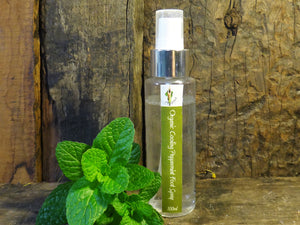 Organic Cooling Peppermint Foot Mist/Hydrosol
Regular price $28.00 $28.00 Sale
Relieve aching or tired feet with a cooling mist of invigorating peppermint hydrosol. A great way to cool down sore feet after a long day or as the finishing touch in an indulgent pedicure.
Hydrosols are extremely versatile. You can use our mists as an alcohol free toner to close pores after cleansing in your regular skin care regime or as a setting agent with a light spray over make up. Perfect any time as a hydrating face mist to help overcome the drying effects of wind and airconditioning.  Hydrosols are packed with the beneficial properties of the plants they are derived from.

Our face and feet mists are packaged in a recycled 100ml mist spray bottle.  
 No Palm Oil or Fillers - Vegan Friendly - Chemical & Dye Free
Tested on eager family & friends - never animals.