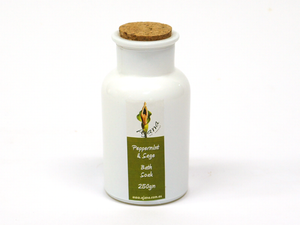 Peppermint & Sage Foot Soak
Regular price $18.00 $18.00 Sale
A delicious blend of uplifting and invigorating fresh peppermint with a hint of sweet sage.
Ajana all natural handmade aromatherapy bath soak is exactly what you need to wash away the cares of your busy and hectic life. Our bath soak is made with a blend of natural salts and 100% pure essential oils to leave to soothe tired muscles and leave you with baby soft skin. Your senses will be invigorated by the pure essential oils.

We take care of your skin as if it were our own and use only natural ingredients. Our products are handmade in small batches so you can be assured of their freshness and quality. 
250gm of blended salts, botanicals and essential oils packaged in a re-useable milk bottle.
Therapeutic Salts + 100% Pure Essential Oil + Botanicals
Vegan Friendly - No Animal Products or Testing